The Rise of Black Friday in the UK 🛍️
Est. reading time:
4
mins
The Black Friday sales have become commonplace in the UK over the past 10 years or so. Each year UK consumers eagerly await the opportunity to help themselves to discounted goods from many of the UK's top stores and online retailers.
In fact, due to the popularity of the event many retailers now offer discounts over the Black Friday weekend or indeed the entire week leading up to it. It's no longer a single day event! However, some of the best discounts can still be found on the day after Thanksgiving.
The Origins of Black Friday
The term Black Friday originated in America and was first coined as early as 1869. However, originally it wasn't associated with shopping but rather a financial crisis.
Two Wall Street bankers; Jim Fisk and Jay Gould came up with a scheme to get rich. They bought up a lot of gold, hoping to increase the wholesale price and make a huge profit.
Unfortunately for Fisk and Gould on Friday 24 September, 1869 the US gold market crashed, bankrupting many of their clients as a result. The day then became known as Black Friday.
It was around 80 years later that the phrase became associated with the period following the US Thanksgiving holiday.
During the 1950's in Philadelphia the Friday after Thanksgiving was extremely busy with large amounts of tourists and shoppers descending on the city. The City's Police department weren't allowed to take any time off because of the crowds so the day was sarcastically known as Black Friday among police officers.
The term was disliked at first by shopkeepers in Philadelphia due to its negative connotations from the financial crash, however they soon adopted it and used it in relation to the Thanksgiving sales. It spread throughout the States and by the 80's was widely used across the country.
It wasn't until 2010 that the Black Friday shopping phenomenon arrived in the UK. Unsurprisingly it was Amazon that introduced the Black Friday sales to this country and that first sale was so popular that customers complained that items sold out too quickly and the traffic volumes actually crashed the Amazon website.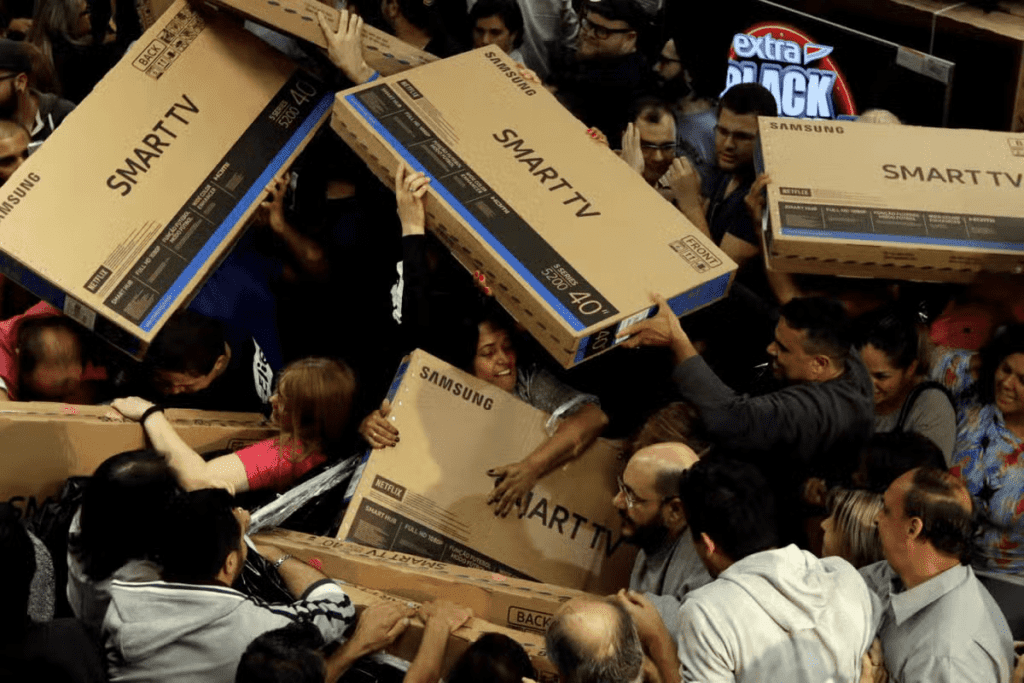 Fighting over TVs
The popularity of online Black Friday sales meant that it wasn't too long before in-store events started to take place. It was Asda that had the first in-store event in 2013. Discounts of up to 70% meant that crowds of shoppers were queueing outside many Asda stores. Inevitably things turned ugly, with fighting in the stores leading to some consumers requiring hospital treatment for broken bones.
The success of Asda's Black Friday, despite the brawling, quickly caught on and many other shops introduced in store and online Black Friday deals with 2018 seeing the average person spending £346 on the sale.
Impact of the Cost of Living Crisis
Black Friday in the UK has grown in popularity in recent years. In 2022, UK consumers spent a record £9.42 billion over the Black Friday weekend. Of this, 61% was spent online.
However, the cost of living crisis is likely to have an impact on Black Friday spending in 2023.
Many consumers are facing rising prices and squeezed budgets. This means that they may be less likely to spend as much money on Black Friday as they have done in previous years.
However, it is also possible that the cost of living crisis could lead to more people shopping on Black Friday.
This is because consumers may be looking for ways to save money on their Christmas shopping.
Overall, it is difficult to predict how the cost of living crisis will impact Black Friday spending in 2023.
It is possible that spending will go down, but it is also possible that it will go up.
what do the statistics say?
🤯 UK consumers are expected to spend an average of £189.59 each in Black Friday and Cyber Monday sales in 2023. This is down from £232.27 last year, but it is still a significant amount of money.
👩🏽‍💻Online sales are expected to account for 63% of all Black Friday spending in 2023. This is up from 61% last year.
🛍️ The most popular items purchased on Black Friday in the UK are clothing, electronics, and toys.
👀 The most popular retailers for Black Friday shopping in the UK are Amazon, Argos, and Currys PC World.
Should I get involved?
If you are a traditional retailer or own an online business there is a benefit to offering your customers special deals as part of a Black Friday sales event.
Due to the popularity of the event, it is essential that any marketing campaign is planned meticulously and any deals offered are really eye-catching.
Search interest in Black Friday events seems to start earlier every year, the data below from Google Trends shows the search interest in the term 'Black Deals' from August 2022 to November 2022.
It clearly shows that consumers begin to search for deals during October.

So despite the gloomy economic outlook, there is definitely an opportunity for retailers.
Consumers still see the events as a way to get discounted Christmas presents or pick up a tech bargain.
Citizen can help!
If you would like to speak to someone about planning a Black Friday campaign or any other type of digital marketing campaign, then we are always happy to help. We can provide the skills and advice you need to get in front of your target audience and help generate sales and leads. Get in touch today to find out more.